February 6th to the 12th 2022 is BNI's 15th Annual International Networking Week.
This year is all about introducing visitors to power of networking and the benefits of BNI.
The Week starts with a BNI Better Together YouTube Live Event will stream on February 7th, 2022. Members and Visitors will be provided a lifelong learning opportunity to hear Dr. Ivan Misner and Graham Weihmiller discuss their secrets of networking and developing a successful business.
At the INW this year, we are excited to welcome these
fabulous leader duo as our Main Speakers
Dr. Ivan Misner is the Founder & Chief Visionary Officer of BNI, the world's largest business networking organization. Founded in 1985 the organization now has over 9,800 chapters throughout every populated continent of the world. Last year alone, BNI generated almost 12.4 million referrals resulting in $16.7 billion member generated business..
Dr. Misner's Ph.D. is from the University of Southern California. He is a New York Times Bestselling author who has written 26 books including one of his latest books – Who's in Your Room? He is also a columnist for Entrepreneur.com and has been a university professor as well as a member of the Board of Trustees for the University of La Verne.
Called the "Father of Modern Networking" by both Forbes and CNN, Dr. Misner is considered to be one of the world's leading experts on business networking and has been a keynote speaker for major corporations and associations throughout the world. He has been featured in the L.A. Times, Wall Street Journal, and New York Times, as well as numerous TV and radio shows including CNN, the BBC, and The Today Show on NBC.
Among his many awards, he has been named "Humanitarian of the Year" by the Red Cross and has been the recipient of the John C. Maxwell Leadership Award. He is proud that he and his late wife, Elisabeth, are the Co-Founders of the BNI Charitable Foundation. They also reached "empty nester" status after happily raising their three children. Oh, and in his spare time!!! he is also an amateur magician and a black belt in karate.
Graham Weihmiller joined BNI in 2014 to help execute BNI's strategic plan that includes operational enhancements, continued membership growth, and ongoing global member expansion. Graham is passionate about building successful service organizations that have a remarkable value proposition and a positive social impact. Prior to BNI, he served as the CEO of a 32-year-old nationwide franchisor of homecare services. While there, he was a founding director of a foundation that provides homecare to those who cannot afford it. His previous leadership experience includes roles with Pioneer Equity Partners, American Franchise Company, Bank of America, Booz Allen and JP Morgan.
Graham speaks frequently on entrepreneurship and franchising and has recently been on panels at Harvard Business School, Stanford University, and Georgetown University. He received his MBA from Harvard Business School and his BBA from the College of William & Mary. He has done subsequent executive education with Harvard Business School in India. He is a Certified Franchise Executive and active with the International Franchise Association. Graham is trained in Lean Enterprise, Process Excellence, Design for Six Sigma, and is a Six Sigma Black Belt. He is an active member of the Young Presidents Organization (YPO) and the Harvard Business School Club of Charlotte, where he was formerly the Club president. He currently serves on the BNI Foundation Board of Directors.
See Why we are BetterTogether
Members and Visitors will be provided a lifelong learning opportunity to hear Dr. Ivan Misner and Graham Weihmiller discuss their secrets of networking and developing a successful business, providing Members and Visitors with a lifelong learning opportunity.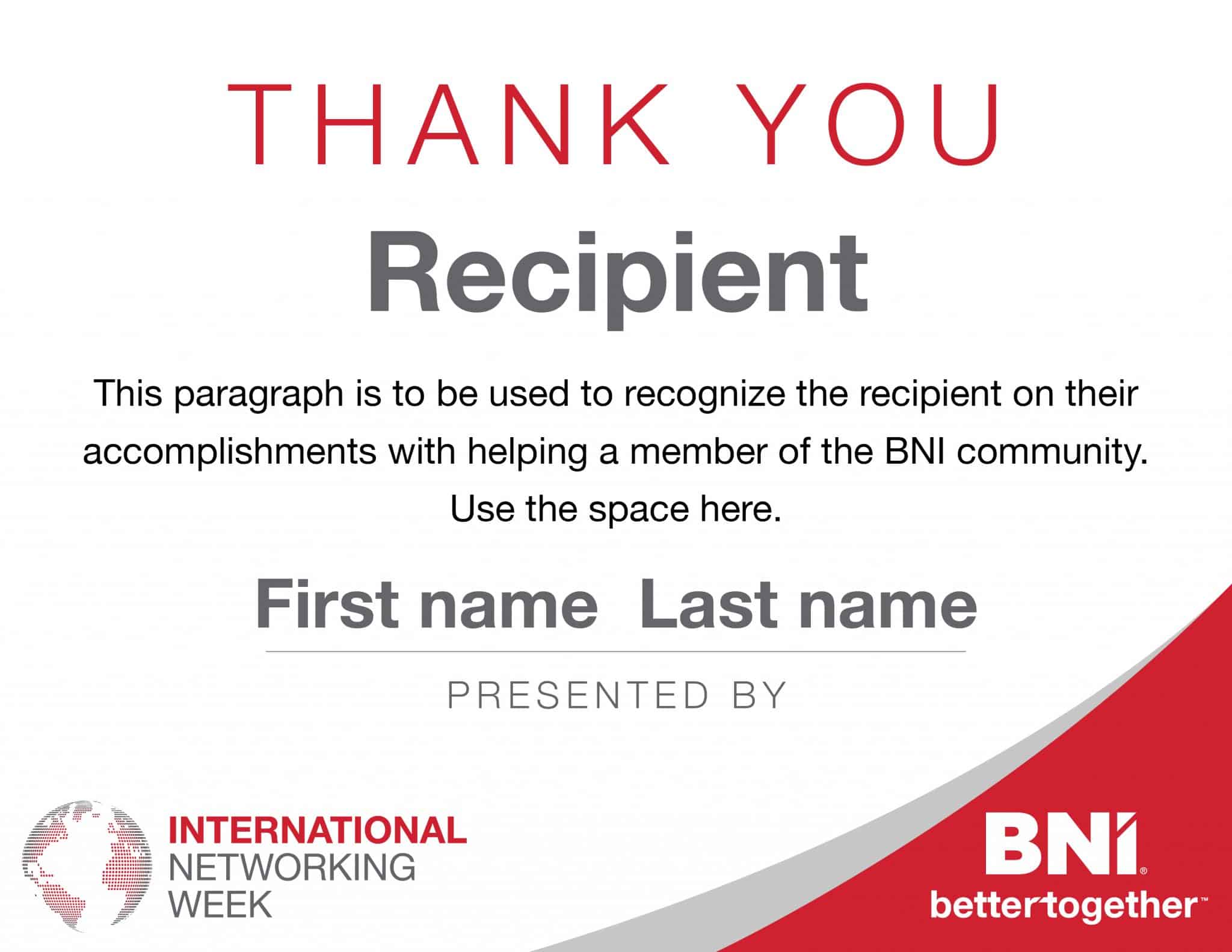 Tell others that we are "Better Together" by recognizing the support Members provided professionally and personally throughout 2021.
Chapters are encouraged to use the editable certificates and social media assets to recognize and say thank you during the weekly meeting.
We have created a variety of assets to help you market and promote International Networking Week.
The interactive tool kit has links to social media assets, hashtags, zoom backgrounds, logos, recommendations, and much more...check it out!
About International Networking Week®:
International Networking Week® has been a global BNI initiative for an opportunity for members to show appreciation for their valued customers and contacts with the gift of a larger network. The goal of International Networking Week is to celebrate the key role that networking plays in the development and success of businesses across the world. International Networking Week is an annual event that takes place the first full week in February.
Business Network International (BNI), the world's largest and most successful business networking organization, is transforming the global landscape of business through its philosophy of Givers Gain®. Today, BNI has 285,000 member-businesses who attend one of 10,500 weekly chapter meetings in over 70 countries around the globe. BNI's proven business networking platform provides BNI Members with proven structure, technology, training, and support to help them build strong businesses in any environment. BNI® Online is its newest product, an advanced online platform that helps BNI Members share valuable client referrals with other Members. In 2021, BNI Members generated over $18 billion USD in revenue via 12 million referrals. To learn more, visit www.bni.com
Paul Richardson is a Member of the Crossroads BNI Chapter in Berlin, Vermont. He is the owner of StoryWorkz and holds the photography seat in his Chapter. In this video, Paul gives A World of Thanks to fellow BNI Vermont Member, Caroline Matte. Caroline not only helped Paul design his business' logo, but also referred him to a company that generated business for him and more BNI Members in the area.
Looking forward to joining us and thousands of Business Owners LIVE?
---